Are American schools returning to segregation?
The Supreme Court launched the desegregation of schools with Brown v. Board of Education in 1954. Now, once diverse districts like Goldsboro, N.C., are reverting to segregation, concerning civil rights advocates.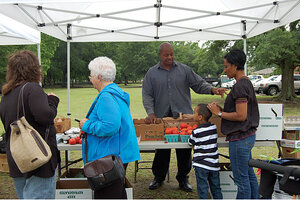 Patrik Jonsson/The Christian Science Monitor
Fronted by tall, proud columns, Goldsboro High in North Carolina was once a flourishing school reflecting the city's 50-50 black-white mix. But the nearly 100-year-old school has verged on academic failure in recent years.
Particularly troubling to civil rights advocates, the student population has become racially and economically isolated – to the point that the high school is now a symbol of "resegregation" in America's classrooms.
In the central attendance zone for Wayne County's schools – a zone that includes Goldsboro High – 93 percent of the students are African-American, and 90 percent are low-income, according to county statistics. By contrast, another attendance zone in the county is 69 percent white, 41 percent low-income.
This past December, the National Association for the Advancement of Colored People (NAACP) filed a civil rights complaint against the Wayne County Board of Education. Now, a federal investigation is under way to assess charges that the school board has maintained a segregated, high-poverty attendance area rife with educational inequities.
---