Elena Kagan: Would she turn Supreme Court into We the People?
Elena Kagan, if confirmed as the next Supreme Court justice, would shift the balance dramatically – with three women and a Jewish-Catholic bloc. So would the high court look like We the People?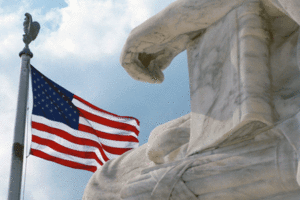 NEWSCOM
They are fathers and sons, mothers and daughters, opera lovers and salsa dancers, long-winded pedants and quick-witted conversationalists, cancer survivors and nonagenarian swimmers, West Coasters and East Coasters, Winnebago drivers and airplane pilots. Aside from being nine of the most powerful men and women in the United States, the Supreme Court justices are also a lot like We the People.
But when we talk about the court looking like America, we also mean things such as the justices' religions, races, genders, and sexual orientations. We mark our progress as a society by the diversity of these traits on the court. And President Obama's nomination of Solicitor General Elena Kagan makes plain how far we've come, and for some, how much further we have to go.
If Ms. Kagan is confirmed after US Senate hearings scheduled to start June 28, then the court will have certain demographics represented in numbers that 50 years ago would have seemed unimaginable: three women, three Jews, six Roman Catholics. Kagan's confirmation also would mean that, for the first time, the court would be left without any white Protestant males, who until 1993, commanded a majority of the court.
Yet as commentators, court watchers, and interest groups remind us, a cast of nine characters made up of two religions, three races, one sexual orientation, and an all-Ivy-League pedigree are hardly avatars of the nation's self-image.
---