Supreme Court Arizona ruling could shape immigration reform
The Supreme Court on Monday agreed to hear a challenge to a 2007 Arizona law penalizing employers who hire undocumented migrants.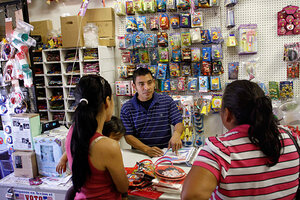 Joshua Lott/Reuters
The US Supreme Court agreed Monday to hear a legal challenge by business, civil rights and immigration groups to a 2007 Arizona law that penalizes employers who knowingly hire undocumented immigrants.
The case will not be a ruling on Arizona's controversial SB 1070, which has resulted in national furor, economic boycotts, and a high-profile confrontation between Arizona Gov. Jan Brewer and President Obama.
But it could shed light on how courts will be inclined to rule on the lawsuits that have been filed challenging SB 1070, give direction to how states and localities – including Arizona – may proceed with new immigration laws, and help shape comprehensive immigration reform that has been percolating – many say too slowly – in Congress.
"This is potentially the biggest immigration ruling of the past 30 years," says Kevin Johnson, Dean of the UC Davis Law School and a former member of candidate Obama's Immigration Policy Group. "Over the past few years, there have been hosts of states and localities attempting to regulate immigration, from Texas to Pennsylvania to Arizona to New Jersey, and this will likely tell us what if any power these states have to make these laws."
---
Follow Stories Like This
Get the Monitor stories you care about delivered to your inbox.