Supreme Court allows sex-abuse case to proceed against the Vatican
Supreme Court refuses the Vatican's request for dismissal, allowing a priest sex-abuse case in Oregon to proceed against the Holy See. The complaint seeks money damages from the church.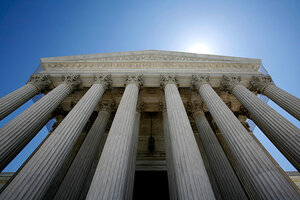 Molly Riley/Reuters/File
The US Supreme Court on Monday declined to examine whether an Oregon resident who allegedly was sexually molested by a Roman Catholic priest as a teenager in the 1960s can sue the Vatican for his abuse. The move allows the litigation to move forward toward a trial.
A federal judge and a federal appeals court had ruled earlier that the lawsuit could go forward. Lawyers for the Vatican, also known as the Holy See, asked the high court to take up the case and dismiss it. They argued that the Vatican could not be held legally responsible for alleged criminal acts undertaken by a priest when those illegal acts were unrelated to his work for the Roman Catholic Church.
At issue was whether the Vatican, a foreign sovereign nation, can be forced to pay money damages to a US citizen for the alleged illegal acts of one of its employees.
Most priests do not have deep pockets to pay such claims. The Vatican does.
Foreign nations are generally immune from lawsuits. But under the Foreign Sovereign Immunities Act, Congress said a foreign nation can be sued in a US court if the harmful act was carried out by an official or employee of the foreign state "while acting within the scope of his office or employment."
---