Mehserle trial verdict draws violence to Oakland, legal scrutiny
Protests erupted in Oakland overnight after the Johannes Mehserle trial ended Thursday with a conviction for the lesser charge of involuntary manslaughter. But legal experts call the outcome of the transit police officer's trial fair.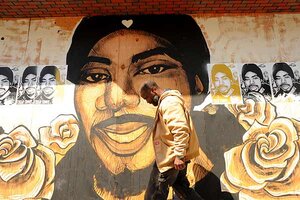 Noah Berger/AP
Activists and legal experts are trying to get Oakland residents and others outraged by the verdict in the trial of former transit police officer Johannes Mehserle to concentrate on further legal solutions to the case, and to shun violence.
The involuntary manslaughter conviction handed down by jurors in a Los Angeles court room Thursday for the New Year's Day 2009 killing of Oscar Grant carries with it at least two years in state prison and a maximum of four years. The judge could add 10 more years to the sentence because Mr. Mehserle used a gun in the killing. In addition, Mehserle could be forced to serve 85 percent of his eventual sentence, a much higher standard than the 50 percent most state prisoners serve.
A $25 million wrongful death civil lawsuit has also been filed by Oakland civil rights attorney John Burris on behalf of the Grant family. And further charges could be filed under the 1983 federal Civil Rights Act for depriving Oscar Grant of his civil rights. "There is also the possibility of suing BART itself for not training Mehserle properly," says Laurie Levinson, a professor at Loyola Law School in Los Angeles.
She says the system worked more strongly than many are giving it credit for. "This is a strong statement by the jury," says Levinson. "It's not like [Mehserle] is walking away with a slap on the wrist. His career is gone and he still faces state prison."
---