Judge clears way for civilian trial of Guantánamo detainee
Ahmed Khalfan Ghailani will stand trial in September for the 1998 truck bombing of the American Embassy in Tanzania despite Mr. Ghailani lawyers' objections that the US violated his speedy-trial rights. Ghailani has been detained by the US for at least five years.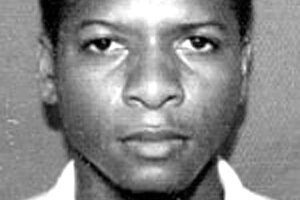 AFP/FBI/Newscom/File
A federal judge ruled Tuesday that the US did not violate the speedy-trial rights of a terror suspect. Ahmed Khalfan Ghailani was interrogated and held for two years by the CIA and detained for another three years at Guantánamo Bay before being brought to New York City to stand trial for the 1998 truck bombing of the US Embassy in Tanzania.
The ruling is a victory for Attorney General Eric Holder, who has sought to underscore the usefulness of using both military detention authority as well as the criminal courts in the battle against international terrorism.
Mr. Ghailani is the first Guantánamo detainee transferred by the Obama administration from military to civilian custody pending trial in federal court.
His lawyers had asked US District Judge Lewis Kaplan to dismiss the indictment in his case on grounds that the government failed to prosecute the criminal case in a timely manner.
After his capture in 2004, Ghailani was held for two years in secret CIA interrogation centers, where he was subject to enhanced interrogation methods. Later he was transferred to the terror prison camp at Guantánamo Bay, Cuba.
Mr. Ghailani's lawyers argued that once Ghailani was in US custody in 2004, the government had to make a choice to proceed with the criminal prosecution or to dismiss the indictment and hold him for intelligence purposes as an enemy combatant.
---