Arizona immigration law heads to court, with $1.2 million war chest
First of seven lawsuits against tough Arizona immigration law is heard Thursday in federal court in Phoenix. Money from private donors across the US has flowed into a defense fund for the statute.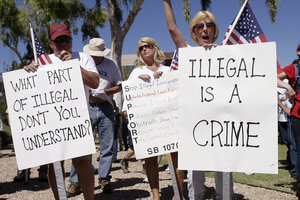 Ross D. Franklin/AP Photo/File
As Arizona heads to court Thursday to defend its tough new immigration law in the first of several legal challenges, it has the backing of many Americans who have opened their wallets to show support for the border state.
Contributions to Gov. Jan Brewer's special legal defense fund now top $1 million, mostly in website donations of less than $100 pouring in from all over the country. Arizona, California, Texas, and Florida are the states with the most online donors.
As of Tuesday, website contributions totaled $1,104934.63 from 23,955 donors, according to the governor's office. Additional mail-in donations totaled $93,084, with contributions still coming in, says Tasya Peterson, a Brewer spokeswoman. The average donation is about $46.
The Republican governor set up the fund by executive order in late May to help the state defend its right to enforce the law, which requires local and state authorities to determine the status of suspects they believe to be in the country illegally. The law, which the governor signed in April, has spawned economic boycotts and seven lawsuits – including one by the US Department of Justice filed July 6 – that seek to stop the law, known locally as Senate Bill 1070, from going into effect July 29.
---