Elena Kagan's role on Supreme Court: defender of 'ordinary people'?
Elena Kagan moved one step closer Tuesday to becoming the third woman on the US Supreme Court, to the satisfaction of President Obama and women's groups. Next up: full Senate debate and a vote before the August recess.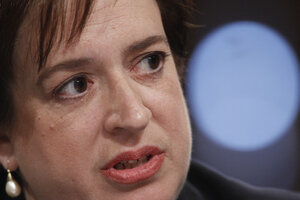 Alex Brandon/AP Photo
President Obama praised the Senate Judiciary Committee's vote on Tuesday endorsing his Supreme Court nominee Elena Kagan, saying the action was a "bipartisan affirmation of her strong performance during her confirmation hearings."
"Elena Kagan is one of this country's leading legal minds," the president said in a written statement thanking the committee members.
The committee vote sends Ms. Kagan's nomination to the full Senate for debate and a vote before the August recess. She is widely expected to win confirmation.
"This is a good day for our nation. We applaud the Senate Judiciary Committee for bringing us one step closer to the day when – for the first time in history – three women will serve together on our highest court," said Debra Ness, president of the National Partnership for Women and Families.
"This important first for the Supreme Court is one more step toward the time when women justices will no longer be viewed as the exception, but rather part of what is normal and routine," said Marcia Greenberger of the National Women's Law Center.
---