Rod Blagojevich on the witness stand: a high-risk legal strategy
Former Illinois Gov. Rod Blagojevich is expected to testify soon on his own behalf in his seven-week corruption trial. The strategy has its risks, but the defense may be hoping the tough-talking politician can win over jurors.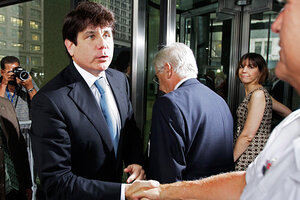 M. Spencer Green/AP
Since the day he was arrested Dec. 9, 2008, and charged with 24 counts related, among other things, to conspiring to "sell" President Obama's former Senate seat for campaign cash, impeached Illinois Gov. Rod Blagojevich has insisted on his day in court to tell jurors his side of the story.
If he does, perhaps as soon as Tuesday, Mr. Blagojevich will employ a defense strategy that legal experts call his "Hail Mary" pass. After seven weeks of testimony by the prosecution, the evidence against him is so troubling, many say, that he has nothing left to lose.
"The only time I would put a client on [the stand] is if I'm convinced the evidence is going to convict them," says Richard Kling, a Chicago criminal defense lawyer.
Blagojevich faces a high hurdle. In their case, federal prosecutors played hours of wiretaps in which the former governor let loose with foul-mouthed rants with former aides about trying to shake down a long list of people and institutions, from the head of a local children's hospital to the Chicago Tribune, for campaign contributions.
But how he talks is not a crime. Blagojevich's early days as an amateur street boxer certainly put the colorful tirades in context. His defense team may see his quirkiness as helpful in that it could counter the prosecution's argument that the former governor saw himself as above the law.
---