Why Rod Blagojevich didn't testify at his corruption trial
Lawyers for Rod Blagojevich may not have wanted to risk putting the fiery former Illinois governor on the stand, or they may think they have the case locked up.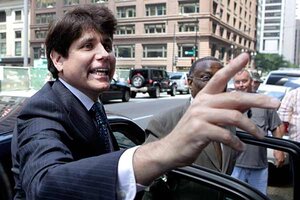 Charles Rex Arbogast/AP
Rod Blagojevich and his defense team have promised for months that he would testify at his trial. Put him on the stand and he would finally clear up the charges against him, they said. But that opportunity came and went Wednesday as the former Illinois governor's lawyers rested their case without calling a single witness, including the ex-governor himself.
Mr. Blagojevich is charged with 24 counts of crimes including fraud, extortion, and conspiracy. He allegedly tried to trade the open Illinois US Senate seat vacated by President Obama for political favors and campaign donations in 2008. Blagojevich was impeached and unanimously removed from office by the Illinois state Senate just before the charges were filed in early 2009.
Legal analysts say Blagojevich's surprise move might be a show of confidence from his defense team. Ronald Allen, a law professor at Northwestern University, says there two reasons why defense lawyers will choose not to call their own clients as witnesses.
"One, you think you already won," Mr. Allen says. "Or two, you're not sure if you've won and you don't want to take a chance."
---