Arizona immigration law: Backers are hopeful after court hearing
A federal judge heard a Justice Department case against the new Arizona immigration law Thursday. The questions she asked of both sides may hint at how she may rule.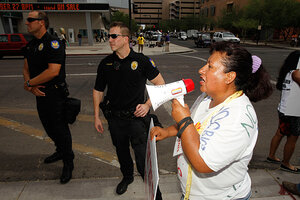 Ross D. Franklin/AP
Six days before Arizona's new immigration law is set to take effect, the fate of the controversial legislation rests with a federal judge who on Thursday heard from Obama administration lawyers seeking to stop its enactment.
Although Judge Susan Bolton made no ruling after a 90-minute hearing in which Justice Department attorneys argued that the law interferes with federal powers, some of her remarks led backers and opponents of the law to draw their own conclusions.
"I'm optimistically hopeful that if not all, almost all of this law is going to survive," says state Rep. John Kavanagh, a Republican who helped sponsor the legislation that has sparked criticism and several economic boycotts.
Phoenix attorney Antonio Bustamante told demonstrators gathered outside, amid a heavy police presence, that it seemed as if the judge might let stand a portion of the law that requires local and state authorities to determine whether a person is in the country illegally. "That's the most egregious," he says.
The Justice Department was the third argued before the judge concerning Arizona's law. It is one of seven suits filed by individuals and civil rights groups, including the American Civil Liberties Union. Critics contend the law is unconstitutional and will lead to racial profiling.
---