No smoking gun in Blagojevich trial. Will it matter for prosecution?
The prosecution made its closing arguments Monday in the trial of former Illinois Gov. Rod Blagojevich. Closing arguments for the defense are Tuesday.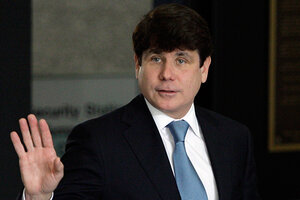 Kiichiro Sato/AP
The prosecution has wrapped up its closing arguments against former Illinois Gov. Rod Blagojevich with a lengthy walk-through of the complicated counts against him.
The prosecution's initial closing arguments Monday took 2-1/2 hours, and while the prosecution provided lots of circumstantial evidence, it lacked the smoking gun that some were anticipating. The defense is expected to argue that the governor, while possibly inept and unethical, was never proved to have done anything truly illegal.
"The government, especially with this very complex indictment, has opened it up for what I call the blowhard defense: 'He's all words, no action, and how has he benefited in any way?' " says Douglas Godfrey, a professor at Chicago-Kent College of Law and a former criminal defense lawyer. "It's been a much closer horse race than people had thought."
Federal prosecutor Chris Niewoehner began his arguments by recounting what has become the most notorious quote from the former governor, speaking to aides on a recorded phone conversation about the Senate seat vacated by President Obama.
"I've got this thing, and it's [expletive] golden, and I'm not going to give it away for [expletive] nothing."
The prosecution's argument
---