Why Judge Susan Bolton blocked key parts of Arizona's SB 1070
US District Judge Susan Bolton issued a temporary injunction that halted key parts of SB 1070, the Arizona immigration law, that would have required police to check the immigration status of anyone they suspected of being an illegal resident.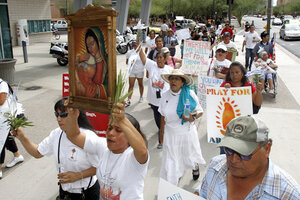 Ross D. Franklin/AP
A federal judge in Phoenix issued a temporary injunction Wednesday blocking implementation of the toughest portions of Arizona's controversial immigration law, known as SB 1070, but the judge allowed other sections of the state statute to stand.
US District Judge Susan Bolton agreed to block the section of the law that required local and state law enforcement officials to check the immigration status of those they suspected were illegal immigrants.
That was the provision that critics said would lead to racial profiling.
Judge Bolton's decision is an important victory for the Obama administration in the face of a rising tide of concern among several states that the federal government is not effectively enforcing immigration law or effectively protecting US borders.
Five states have introduced legislation similar to Arizona's law, and 20 others are reportedly considering it.
The ruling adds fuel to an already heated national debate over US immigration policy and sets the stage for more rounds of litigation in a case that could eventually make its way to the US Supreme Court.
In her ruling, Bolton also blocked a portion of the law that required state officials to check the immigration status of anyone in custody in Arizona before they were released from jail.
The judge said the state measure was preempted by federal law because such checks would swamp federal immigration officials who are pursuing different priorities.
---