It's official: Elena Kagan is a Supreme Court justice
Elena Kagan, President Obama's second appointment to the US Supreme Court, was sworn in Saturday as an associate justice. Which cases will she hear first?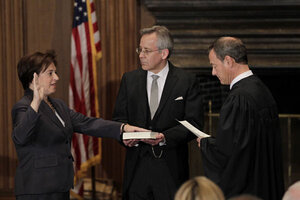 J. Scott Applewhite/AP
Elena Kagan officially became a US Supreme Court justice Saturday, swearing an oath – two oaths, actually – to uphold the US Constitution and to "administer justice without respect to persons."
She is President Obama's second Supreme Court appointee and the fourth woman ever to serve on the highest court in the land.
Ms. Kagan, who most recently held the post of US solicitor general, was sworn in by Chief Justice John Roberts at the Supreme Court. During the televised portion of the ceremony, she stood before a cavernous fireplace in the court's West Conference Room and, her right hand raised, took the judicial oath, pledging to "faithfully and impartially discharge and perform all the duties" of an associate justice.
IN PICTURES: Supreme Court justices with no prior judicial experience
Minutes earlier, in a small private gathering in the room where the justices deliberate and vote, Kagan had recited the so-called constitutional oath. Required of all federal employees (except the president, who utters words specifically written in the Constitution for that office), the oath is as follows:
"I, _________, do solemnly swear that I will support and defend the Constitution of the United States against all enemies, foreign and domestic; that I will bear true faith and allegiance to the same; that I take this obligation freely, without any mental reservation or purpose of evasion; and that I will well and faithfully discharge the duties of the office on which I am about to enter. So help me God."
---