Rod Blagojevich jury deadlocked on some charges. Now what?
The jury weighing 24 criminal charges in the corruption trial against former Illinois Gov. Rod Blagojevich is deadlocked. That doesn't necessarily mean a hung jury.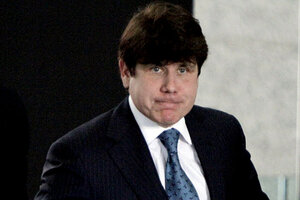 M. Spencer Green/AP
The jury deliberating the fate of Rod Blagojevich is deadlocked on some of the 24 counts facing the former Illinois governor in his federal corruption trial.
US District Judge James Zagel received a note from jurors Wednesday, the 11th day of deliberations, saying they had made "a reasonable attempt" to reach a unanimous decision on all counts but could not make a consensus on some.
Judge Zagel called the jury "exceptionally disciplined" and said he would tell the jury it was "permissible" for them to return verdicts on some counts and not on others.
On late Wednesday afternoon, the judge said he wants to consult with the jurors before deciding what happens next. He added that the note did not make it clear regarding which counts the jury count not reach consensus.
The former governor faces fraud, conspiracy, bribery, and racketeering charges that involve alleged attempts to trade official acts for contributions to his campaign fund.
Ronald Allen, a criminal law expert at Northwestern University School of Law in Chicago, says the deadlock can be explained two ways: It indicates the jury "had a lot of counts to go through and they're doing it systemically and seriously and they were not convinced he was not guilty" and that "a quick acquittal" is likely not going to happen.
---