Why Rod Blagojevich jury deadlock could be good news for defense
After 12 days of deliberation, the Rod Blagojevich jury has reached a verdict on only 2 of 24 counts. 'If it was an open-and-shut case, it would have been shut by now,' says one legal expert.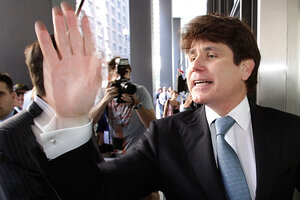 Charles Rex Arbogast/AP
The jury deliberating the federal corruption trial of former Illinois Gov. Rod Blagojevich reached a verdict on two of the 24 counts, the judge presiding over the case said Thursday, but it is uncertain which of the counts the jury has reached a verdict on and what those verdicts are.
What is known is the jury has not yet even voted on the 11 counts of wire fraud. Of the additional 11 counts, the jury is deadlocked.
Thursday marks the 12th day of deliberations in this high-profile trial in which the charges against Mr. Blagojevich relate to his alleged efforts to sell President Obama's former US Senate seat and other schemes to raise money for his campaign trust. While reading the jury's actions is now a late summer sport for Chicago trial watchers, some legal experts say the drawn-out process plays well for the defense.
"If it was an open-and-shut case, it would have been shut by now. [The jury] may think there is a reasonable doubt and the longer they're talking about these issues and the more doubt comes up, the better it is for the defense attorneys," says Stuart Slotnick, a New York City attorney who specializes in white-collar defense.
Mistrial looming?
Mr. Slotnick says the defense now has the opportunity to ask for a mistrial, and that such a request is likely if the jury returns a second time with news they are at an impasse regarding the majority of counts.
Retrying Blagojevich, and his brother Robert, who is charged with four counts, plays in the defense's favor. The defense would have transcripts from the first trial at their disposal, and it could use them to contradict witness testimony from the prosecution.
---