Antigay church can protest military funerals, judge rules
Missouri violated free speech protections when it passed a law to prevent Westboro Baptist Church, known for its provocative antigay protests, from picketing military funerals, a federal judge ruled Monday.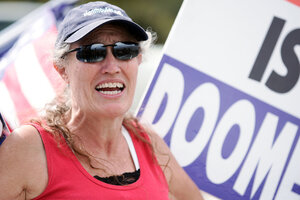 Newscom/File
A federal judge has struck down as unconstitutional a Missouri law aimed at preventing members of a Kansas-based religious group from conducting inflammatory protests outside the funerals of fallen US service members.
Chief US District Judge Fernando Gaitan said the state statute violated free speech protections guaranteed in the First Amendment by imposing excessive restrictions on the ability to conduct protests outside funerals. The judge, who is based in Kansas City, Mo., also ruled that the controversial protests did not amount to "fighting words," which are unprotected by the Constitution and can be banned.
"Although plaintiff's speech may be repugnant to listeners, the court finds that, at a minimum, some of plaintiff's speech is entitled to constitutional protection," Judge Gaitan said in a 19-page decision announced Monday.
The plaintiff in the case was Shirley Phelps-Roper, a member of Westboro Baptist Church in Topeka, Kan. The group has attracted national attention by using military funerals to stage protests to spread its message that God hates America for its tolerance of homosexuality.
Church members arrive at military funerals with signs that declare: "God Hates Fags," "Thank God for Dead Soldiers," and "9-11: Gift from God." The group believes that God is punishing the US – and allowing US soldiers to die in combat overseas – because of the country's growing acceptance of gay rights.
The protests are conducted at military funerals regardless of the sexual orientation of the service member. They have provoked angry reactions from family members, friends, and members of the public.
---