Rod Blagojevich retrial: Can prosecutors succeed with a simpler case?
Rod Blagojevich retrial will likely be a condensed version of the original case and focus on charges related to allegations that he attempted to sell President Obama's Senate seat.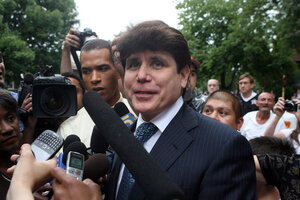 Eric Y. Exit/AP
Retrying former Illinois Gov. Rod Blagojevich in federal court this fall may require prosecutors to condense 23 remaining charges against him to get a fuller conviction, say legal experts.
Mr. Blagojevich was convicted of lying to FBI agents Tuesday, a single count that both sides, particularly the defense, considered ancillary to more serious indictments. He was facing charges related to racketeering, conspiracy, and bribery related to the selling of President Obama's former US Senate seat for cash.
The jury deadlocked on those charges and US District Court Judge James Zagel told prosecutors they had until Aug. 26 to say they wanted to retry the case. Federal prosecutors have indicated they will seek a retrial.'
For many, the deadlocked jury was no surprise.
Throughout the trial, experts said the complexity of the prosecution's case could prevent the jury from reaching consensus on guilt.
For example, Blagojevich's recorded conversations with advisers were portrayed in court as being about raising money from interested parties. But prosecutors never showed any money changing hands. Experts suggest that disconnect led to confusion among jurors.
Prosecutors also attempted to implicate Blagojevich in a sweeping political conspiracy that was too complex, say many experts. In retrying the case, prosecutors will likely present jurors a simpler, more direct argument.
"They over tried the case. They had too many charges with too many themes," says Andrew Stoltmann, a securities attorney in Chicago.
---