Roger Clemens indicted: How much trouble is he in?
Baseball star Roger Clemens was indicted Thursday by a federal grand jury on charges of lying to Congress during a 2008 hearing on steroid use. But proving perjury is difficult.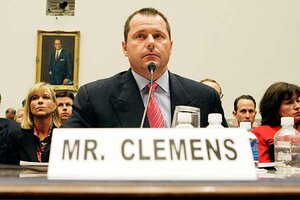 Pablo Martinez Monsivais/AP/File
How much trouble is Roger Clemens in?
Well, he's in a heap of a mess in regards to his personal image and financial future. It is never a good thing to be indicted by a federal grand jury for perjury, as the former Rex Sox-Blue Jays-Yankees superstar Clemens was on Thursday. The indictment likely will color fans' views of his career forever, and perhaps keep him out of the Hall of Fame, despite statistics that rank him among the best pitchers of all time. His legal costs will now skyrocket even as his prospect for earning quick cash through speeches or endorsements declines.
But how much legal trouble is he in? That's another question. In general, prosecutors don't like to bring perjury prosecutions, says Geoffrey Rapp, a sports law expert and professor at the University of Toledo College of Law. They must prove not only that the defendant lied, but that he or she intended to lie. And that is difficult to do.
"This is bad news for him in terms of further investigations into his private life and history's view of him, but I doubt he will go to jail," says Mr. Rapp, who is also a contributor to the Sports Law Blog.
---