Viktor Bout, 'Merchant of Death' arms dealer, faces US terrorism charges
Viktor Bout, a Russian arms dealer ordered extradited to the US from Thailand Friday, is accused of conspiring to provide millions in military-grade weapons to Colombia's FARC guerilla group.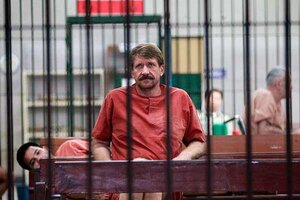 Sukree Sukplang/Reuters
An appeals court in Thailand on Friday ordered the extradition of a Russian arms merchant wanted in the US on terrorism charges for allegedly plotting to provide missiles and other military assistance to a Colombia-based guerilla group.
Viktor Bout, sometimes called the "Merchant of Death," is wanted on federal charges that he conspired to provide millions of dollars worth of military-grade weapons – including 800 anti-aircraft missiles – to the Revolutionary Armed Forces of Colombia (FARC).
Mr. Bout is alleged to be one of the world's most active black market arms traders, with an international network of 30 front companies, a fleet of cargo planes, and ready access to stockpiles of Russian arms.
According to US officials, arms sold or brokered by Bout have helped fuel conflicts in Afghanistan, Angola, the Democratic Republic of the Congo, Liberia, Rwanda, Sierra Leone, and the Sudan.
Upon hearing the court's decision, Bout told reporters that he would face trial in the US and "win it," according to Russia's RIA Novosti news agency.
---