CSU must reveal Sarah Palin speech contract, judge rules
Beyond its dumpster diving intrigue, the Sarah Palin speech contract case touches on the legal issues that arise when public universities partner with private foundations.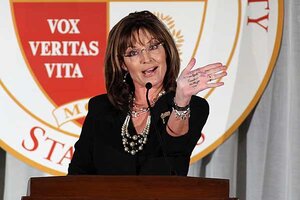 Rich Pedroncelli/AP
California State University, Stanislaus and its private foundation violated the state's public records law when they withheld a speaking contract for former Alaska Gov. Sarah Palin earlier this year, a judge has ruled. The CSU Stanislaus case gained attention last spring when faculty and students expressed alarm over the high speaking fee the university might pay former Governor Palin to address a 50th anniversary fundraising gala.
State Sen. Leland Yee and an advocacy group sued after they were denied a public records request for the contract and any correspondence regarding Palin's visit. School administrators denied having correspondence about it, and students found shredded documents about the visit in the administration's dumpster.
Palin gave the speech June 25, and was paid $75,000.
At issue in the suit was a 2008 state law stating that regardless of any contract term to the contrary, a contract between a private entity and a state or local agency is subject to the same disclosure requirements as other public records.
Stanislaus County Superior Court Judge Roger Beauchesne agreed with the plaintiff, Californians Aware, a nonprofit organization established to hold government and other powerful institutions accountable for their actions. He held that CSU should have made the document public because the university used the contract "in the conduct of the public's business."
The case presented an opportunity to clarify the relationship between public universities and their private foundations under the public records act, says Jim Ewert, legal counsel for the California Newspaper Publishers Association, which is co-sponsor of legislation now on Gov. Arnold Schwarzenegger's desk to expand the law's reach.
---
Follow Stories Like This
Get the Monitor stories you care about delivered to your inbox.