Florida voters can't strip down Obama health-care bill, judge rules
Florida was one of four states – along with Arizona, Oklahoma, and Colorado – with a ballot initiative this November to potentially override the health-care bill mandate that all Americans must have health insurance. But a Florida court said the ballot language was 'misleading.'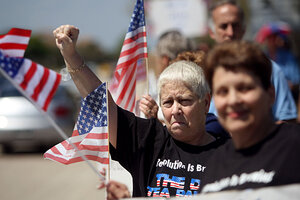 Bruce R. Bennett/The Palm Beach Post/Newscom/File
The Florida Supreme Court on Tuesday rejected a ballot initiative that sought to amend the state's constitution to establish that Florida residents have a right to refuse to purchase mandatory health insurance – including under President Obama's reform effort.
The state high court voted 5 to 2 to exclude the referendum issue from the November ballot.
The action is a victory for supporters of the Obama health reform program and a setback for opponents, including state lawyers leading an effort in federal court in the Florida panhandle to have the national health insurance program declared unconstitutional.
Florida was slated to be one of four states voting in November on constitutional amendments barring forced participation in a health insurance program. The three remaining states are Arizona, Oklahoma, and Colorado.
Missouri conducted a recent statewide vote posing the same question. It passed with 71 percent of the vote.
"The ballot language put forth … contains misleading and ambiguous language," the Florida justices said. "Currently our only recourse is to strike the proposed constitutional amendment from the ballot."
In a dissent, Chief Justice Charles Canady and Justice Ricky Polston said the court should resolve the case the same way it resolved a 2004 ballot question dispute.
The court rejected the disputed language in the ballot summary, but then ordered state officials to publish the full text of the amendment on the ballot instead.
---