Joe Arpaio: Why is Obama administration suing an outspoken Arizona sheriff?
The Justice Department said Thursday that Sheriff Joe Arpaio of Arizona's Maricopa County is not cooperating in an investigation into whether his department has used racial profiling in sweeps to catch illegal immigrants.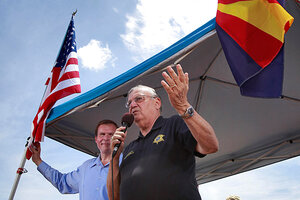 Matt York/AP/file
The United States Justice Department is filing an "unprecedented" lawsuit against Joe Arpaio, the controversial sheriff of Arizona's Maricopa County.
In announcing the legal action Thursday, a Justice Department official said that Sheriff Arpaio is refusing to cooperate with a federal investigation into allegations of discrimination and illegal searches and seizures by the department.
The Justice Department said it has been seeking documents relating to its civil-rights probe for 15 months and turned to a lawsuit only as a last resort, adding that this was the first time in 30 years that a police department had not cooperated with a civil-rights investigation.
"The actions of the sheriff's office are unprecedented," said Thomas Perez, assistant attorney general for the civil-rights division, in a statement.
Arpaio told the Arizona Republic that he thought the lawsuit was "camouflage" for a federal attempt to curtail his anti-illegal immigration sweeps in mostly Latino communities. He also said he had begun cooperating with federal authorities and thought they were making headway toward a solution.
Arpaio and the Obama administration have repeatedly clashed over immigration policy.
---