Has California Supreme Court ruling 'wiped out' support for Prop. 8?
Gov. Arnold Schwarzenegger and Attorney General Jerry Brown are not required to defend against a legal challenge to Prop. 8, the law banning same-sex marriage, the state supreme court found. So who will defend it now?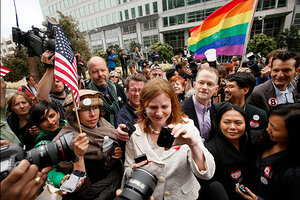 Eric Risberg/AP
The California Supreme Court ruled Wednesday that Gov. Arnold Schwarzenegger and Attorney General Jerry Brown have no legal obligation to defend Proposition 8. The 2008 voter-approved measure banning same sex marriage was declared unconstitutional by a federal judge on Aug. 3.
Analysts call Wednesday's ruling a major setback for Prop. 8 supporters.
"There is a decent chance that Prop. 8 will be wiped out and that same sex marriages will be declared legal in California," says Royal Oakes, partner at the Los Angeles-based law firm Barger and Wolen.
Protect Marriage, a coalition of religious and conservative groups that sponsored and had defended Proposition 8, had been trying to force the state to defend the law, arguing that the governor and attorney general had an obligation to do so. When US District Judge Vaughn Walker overturned Prop. 8, legal analysts raised questions about Protect Marriage's legal standing to file an appeal of the decision. Wednesday's ruling raises serious questions about who will defend Prop. 8 as the Ninth US Circuit Court of Appeals is scheduled to hear oral arguments in December.
---