As California sues over Bell salaries, a boon for Jerry Brown
Bell, Calif., was the scene of some of grossest government abuses of power ever seen in the US, political observers say – and it could end up helping Jerry Brown in his race for governor.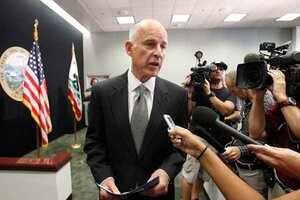 Mario Anzuoni/Reuters
The first legal action has been taken against the city of Bell since the L.A. Times reported in July that officials there are among the highest paid municipal employees in the nation. Located in suburban Los Angeles, the city of about 38,000 took the national spotlight when it was revealed that the city manager was being paid an annual salary of $787,637, the police chief took home $457,000 and the assistant city manager brought in $376,000.
The Times also reported that the largely poor, immigrant population was being exploited with astronomical vehicle impound charges.
California Attorney General Jerry Brown on Tuesday filed a civil lawsuit against eight former and current Bell city officials, calling for the recovery of unwarranted salaries amounting to hundreds of thousands of dollars, and calling for the reduction of pension benefits for the officials.
"What is clear is that the City Council and city administrator and other officials abused their public trust," said Brown in a statement. "They engaged in a collaboration that [amounted] to a civil conspiracy to defraud the public."
While Brown pushes a civil suit, the Los Angeles County district attorney is focusing on a criminal case and federal prosecutors are investigating whether the city violated the civil rights of its predominantly Hispanic population through selective enforcement of traffic laws and code violations.
Even before the investigations and legal procedures are complete, analysts are examining possible lessons from what happened in Bell.
---