How a campaign manager spent $250,000 he embezzled from Chris Shays
Michael Ian Sohn, the former campaign manager for former Rep. Christopher Shays, pleaded guity to buying a $13,000 engagement ring, theater tickets, a bed, and more with campaign cash.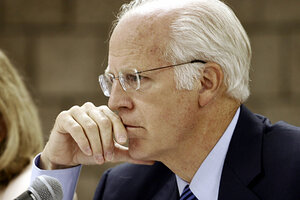 Nicholas Roberts/Reuters/file
The former campaign manager for defeated Connecticut Congressman Christopher Shays has been sentenced to three years in prison and ordered to pay full restitution, after pleading guilty to embezzling more than $252,000 from the Shays campaign.
Michael Ian Sohn of Fairfield, Conn., used some of the embezzled money to buy a $13,000 engagement ring from a New York jewelry store in 2007, but according to court documents, the couple is now separated and "some doubt exists as to whether they will remain married should he be incarcerated."
Mr. Sohn served as Shays' campaign manager and as a legislative aide from 2003 to 2008, when Shays was defeated. Court documents say that despite his employment for a member of Congress with income of over $100,000-a-year, Sohn did not file a tax return from 2005 to 2007.
In 2008, Sohn received taxable income of $163,949, but only reported income of $76,000 on his tax return.
In addition to pleading guilty to illegally converting Shays campaign money to his own use, Sohn also pled guilty to tax evasion.
According to a 12-count indictment, Sohn also caused the Shays campaign to file false information to the Federal Election Commission about the true state of the campaign's finances. As campaign manager, Sohn ran every aspect of Shays' reelection efforts in 2002, 2004, 2006, and 2008.
The Shays Campaign Committee spent about $950,000 in 2002, $1.9 million in 2004, $4.1 million in 2006, and $3.5 million in 2008, according to court documents.
---