Free speech: Westboro church Supreme Court case tests First Amendment
A Supreme Court case challenging the Westboro Baptist Church anti-gay protests will test the limits of free speech, with First Amendment implications for other forms of expression such as Quran burning and racist demonstrations.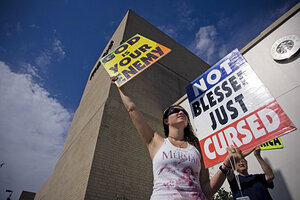 Newscom/File
When a Florida preacher announced his plan to burn copies of the holy Quran at his small Gainesville church, he hoped the symbolic act of desecration would create more than just a pile of ashes. His aim was no less than to spark a conflagration between two of the world's great religions – Christianity and Islam.
The Rev. Terry Jones had important allies in his fiery gambit; free speech protections enshrined in the First Amendment, an ability to exploit the Internet, and a voracious 24-hour cable news cycle willing and able to send a hateful message around the globe in a single, shocking instant.
The strange tale of Mr. Jones and his fistful of matches cuts to the heart of the American ideal of free speech – that toler­ating expression of even the most ugly and hurtful ideas is a protection in a democratic country.
But has it gone too far?
When a US-based preacher can trigger deadly protests in Afghanistan and Kashmir, or an aborted Quran-burning in Florida prompts copycat burnings across the country, or a Seattle-based artist must go into hiding after drawing a cartoon of the prophet Muhammad, the limits of America's brand of free speech are bound to be tested – sometimes in surprising and dangerous ways.
---