Free speech: What if Terry Jones went to Sweden?
A look at the global state of free speech.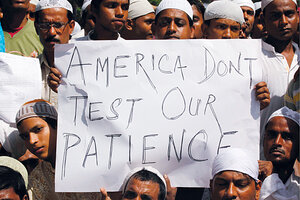 Rupak De Chowdhuri/Reuters
In America, we can paint a Hitler mustache on the president's likeness without fear of the government's wrath.
But in Jordan, a poem critical of the king can get a writer jailed. Hatim al-Shuli, a university student, was arrested in late July 2010 for penning a poem insulting the king and causing internal strife, actions proscribed under Jordan's penal code. Mr. Shuli denies writing the poem, but remains in detention awaiting trial.
"[A]rrests for things like writing poems unfortunately are regular occurrences in Jordan," reports Human Rights Watch, a New York-based advocacy organization.
Article 19 of the United Nations Declaration of Human Rights states that "[e]veryone has the right to freedom of opinion and expression." Today, decades after the UN's 1948 adoption of the declaration, Article 19 continues to be an ideal actively pursued in some countries and aggressively denied in others.
For example, in Turkey, a constitutional republic, expression considered insulting to the nation itself is a criminal offense under a 2005 penal code. And writers and journalists have been prosecuted for recognizing the Armenian genocide of 1915-17 – an event the Turkish government officially denies.
Many European countries, on the other hand, have criminalized the denial of crimes against humanity. This summer, Hungary became the latest to do so, passing a law imposing three years' imprisonment for those who deny Nazi and Communist genocides.
---
Follow Stories Like This
Get the Monitor stories you care about delivered to your inbox.