Supreme Court: Can Westboro Baptist Church protest military funerals?
Supreme Court to hear free speech case pitting a bereaved father against the Westboro Baptist Church, which held an antigay protest near the funeral of his son, a marine killed in Iraq.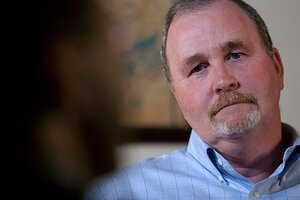 Ann Foster/AP
The US Supreme Court is set to hear a high-stakes battle over free speech on Wednesday in an appeal filed by the father of a US Marine killed in Iraq who claims his son's funeral in 2006 was disrupted and ruined by an antigay protest.
Albert Snyder had won a $5 million jury verdict against the Rev. Fred Phelps and members of his Westboro Baptist Church for intentional infliction of emotional distress and violating the sanctity of the funeral of his son, Lance Corporal Matthew Snyder. But the judgment was later reversed by a federal appeals court panel that ruled that despite the offensive nature of the protests conducted by the Westboro members, their activities were protected by the First Amendment.
Mr. Phelps is well-known nationally for his fire-and-brimstone opposition to homosexuality. Since 2005, he and members of his Topeka, Kansas-based church have organized protests at military funerals of service members who are not gay in an effort to attract public attention to their cause.
The group believes that God hates homosexuality and is punishing America for its growing acceptance of gay rights by killing US troops overseas.
---