What Supreme Court justices asked at Westboro Baptist Church hearing
Albert Snyder says Westboro Baptist Church protesters ruined his son's funeral. The church says it has a right to free speech. The justices asked a lot of hypothetical questions about what constitutes allowable speech.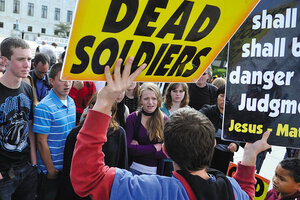 The Carroll County Times/Dave Munch/AP
In a classic battle over free speech in America, the US Supreme Court on Wednesday took up the case of a grieving father who said his son's military funeral was tarnished forever by religious zealots wielding offensive signs and a message of hate.
At issue in the case is whether noxious, fiery speech is protected by the First Amendment, even when it causes injury to a family attempting to conduct a dignified and respectful funeral service.
"What we are talking about is a private funeral," lawyer Sean Summers told the justices. "I would hope that the First Amendment wasn't enacted to allow people to disrupt and harass people at someone else's private funeral."
The protest was carried out by seven members of the Westboro Baptist Church, which is nationally known for its highly offensive protests. The Topeka, Kan.-based group believes God is punishing the United States for its tolerance of gay rights by causing US service members to die in overseas wars. Church members display signs proclaiming: "Thank God for Dead Soldiers" and "You're Going to Hell."
"The words that were at issue in this case were people from a church delivering a religious viewpoint, commenting not only on the broader public issues [but also] about the morals of the nation," Westboro's lawyer, Margie Phelps, told the court.
---