Pentagon must stop 'don't ask, don't tell,' federal judge rules
Judge Virginia Phillips on Tuesday ordered the Pentagon to stop enforcing its 'don't ask, don't tell' ban on openly gay service members. Though experts say the ruling would likely be overturned on appeal, it is an important moment for the gay-rights movement.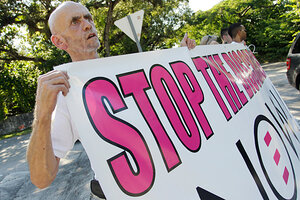 J. Pat Carter/AP
A federal judge Tuesday ordered the Department of Defense to stop enforcing "don't ask, don't tell" – the law that prohibits openly gay people from serving in the military.
US District Judge Virginia Phillips's decision – widely cheered by gay-rights organizations nationwide – said in part, "There is no adequate remedy at law to prevent the continued violation of service members' rights or to compensate them for violation of their rights."
The decision will likely be overturned if it is appealed, say legal analysts. But it is important because it impels the courts – and potentially the US Supreme Court – to confront the policy legally. Moreover, the ruling marks another in a growing number of federal court decisions strongly favoring gay rights.
The Department of Defense and Department of Justice have not formally commented on the decision yet.
Some legal experts expected the Obama administration to appeal, even though "the Obama administration is sympathetic to the ruling," says Jesse Choper, a professor at the University of California's Boalt School of Law in Berkeley.
He suggests that the Department of Justice will say that Tuesday's decision is premature without the input of the military – which is currently reviewing the policy. "It would be very unusual for the government to kick it in and not challenge this," says Mr. Choper.
---