Supreme Court appears split by infant vaccination case
The Supreme Court hears arguments in a lawsuit filed against the manufacturer of a vaccine that left a 6 month old girl developmentally impaired.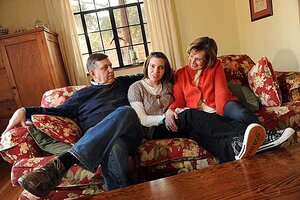 Newscom
The US Supreme Court on Tuesday heard argument in a dispute over whether the family of an infant who suffered a severe reaction to a vaccine can sue the drug maker for allegedly failing to replace an older version of the vaccine with a safer version.
At issue is whether Russell and Robalee Bruesewitz can sue drug maker Wyeth for allegedly selling an unsafe product that caused their healthy six-month-old daughter, Hannah, to suffer seizures that left her developmentally impaired.
The high court appears to be split on the case, with Justice Ruth Bader Ginsburg among those favoring the parents' lawsuit and Chief Justice John Roberts among those leaning toward the drug maker's and the government's position that the claim is preempted.
Justice Ginsburg questioned why if Congress wanted to bar civil liability for vaccine manufacturers it wrote a law that is open to conflicting interpretations. "If you wanted to make it clear that there is no design defect liability, then say that," she said. "The language that they used is certainly, to say the least, confusing."
The vaccination was administered in 1992. Hannah will celebrate her 19th birthday next week. She will require a lifetime of supervision and care, according to Washington lawyer David Frederick, who is representing the family.
---