Supreme Court declines Bush bumper sticker case
Two Colorado residents sued when they were barred from a 2005 George W. Bush speech because they arrived in a car with an antiwar bumper sticker. The Supreme Court rejected their case Tuesday.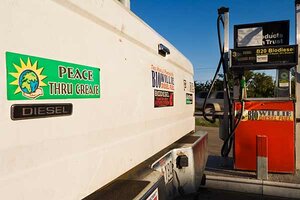 Newscom/File
The US Supreme Court on Tuesday declined to hear the appeal of two Colorado residents who were excluded from a speech by President Bush in 2005 because White House aides saw them arrive in a car with a bumper sticker that proclaimed: "No More Blood For Oil."
Although they had earlier obtained tickets to the event, passed through a security checkpoint, and said they had no intention of being disruptive, White House officials and volunteers ordered them removed from the venue by two uniformed police officers. The officials were acting under a Bush administration policy of barring from then-President Bush's public appearances anyone who might disagree with him.
The speech was held at a privately owned museum in Denver but was open to members of the public who obtained tickets beforehand. As an official presidential speech, it was paid for with government funds.
The two ejected individuals, Leslie Weise and Alex Young, never said or did anything disruptive and were ejected before the speech began. They later filed a lawsuit claiming Bush aides violated their First Amendment right to display a bumper sticker on a car and not face punishment from government officials who object to the message.
---