Supreme Court: Can death row inmate force state to do more DNA testing?
The Supreme Court agreed to take the case of a man on Texas' death row. He wants the state to do DNA tests on other, untested evidence he says would prove his innocence. A victory would make it easier for convicted criminals to continue to fight convictions.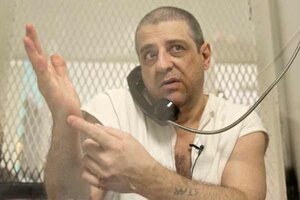 Newscom
The US Supreme Court took up a case on Wednesday examining whether a Texas death row inmate may invoke a federal civil rights law to conduct DNA tests on untested pieces of evidence from his trial.
Henry Skinner was convicted in the 1993 triple murder of his girlfriend, Twila Busby, and her two developmentally disabled sons in Pampa, Texas.
Prosecutors used DNA tests as well as other physical evidence to win a conviction and death sentence. But Mr. Skinner wants to test other, untested evidence. He says the results will support his claim that he is innocent.
Texas prosecutors refused his request, and those refusals were upheld in the Texas courts and federal courts. Prosecutors argued that Skinner had an opportunity to test the evidence at the time of his trial but that his lawyer declined to do so for strategic reasons.
The issue before the high court is whether Skinner is now entitled to pursue the matter under a federal civil rights law, known as Section 1983, or whether he must file it as part of a habeas corpus appeal.
Skinner favors the civil rights route. Habeas corpus appeals are harder to win.
The case is significant because a victory for Skinner would make it easier for convicted criminals across the country to continue to fight their convictions.
For that reason, 22 states joined the State of Texas in urging the high court to reject Skinner's arguments.
The expanding use of DNA testing has freed a significant number of individuals who had been wrongly convicted. Forty-eight states have enacted laws governing DNA testing after a conviction. But the Supreme Court has been reluctant to expand those protections through adoption of its own national rule.
---