Health-care reform: US judge allows Florida's challenge to Obama
Saying opponents of President Obama's health care reform law 'have most definitely stated a plausible claim,' a federal judge in Florida allows the key elements of the lawsuit to proceed.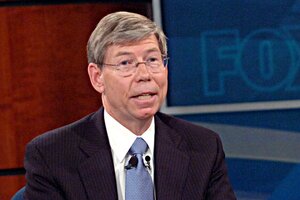 Jason Behnken/AP/File
A federal judge in Florida ruled on Thursday that a lawsuit challenging the constitutionality of President Obama's health-care reform law may move forward in the courts. A hearing in the case is scheduled for Dec. 16.
US District Judge Roger Vinson upheld the two most important of six counts in a lawsuit filed on behalf of officials in Florida and 19 other states. The suit alleges that the controversial health-care law and its individual mandate requiring health insurance exceeds Congress's power under the commerce clause and other constitutional provisions.
"At this stage of the case, the plaintiffs have most definitely stated a plausible claim," Judge Vinson said about the commerce clause challenge.
Florida Attorney General Bill McCollum, who is leading the states' challenge to the law, said the ruling was an important victory. "It is the first step to having the individual mandate declared unconstitutional," he said in a statement.
Supporters of the health-care measure said they were baffled that the judge had not tossed out the entire lawsuit.
"We are happy that Judge Vinson narrowed this lawsuit today, but what he really should have done is dismiss it altogether," said Doug Kendall, president of the Constitutional Accountability Center in Washington.
---
Follow Stories Like This
Get the Monitor stories you care about delivered to your inbox.