US agents make arrests in massive Medicare fraud case in Florida
Federal strike force targets two South Florida companies that allegedly netted $83 million from Medicare fraud. Case is called the largest fraudulent billing scheme ever prosecuted by the strike force.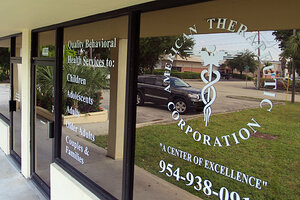 J Pat Carter/AP
Federal agents in a health-care-fraud strike force moved on Thursday in Miami to shut down a massive Medicare fraud operation that allegedly netted $83 million in illicit proceeds since 2003.
Two South Florida health-care companies and four owners and senior managers were named in a 13-count indictment charging fraud and kickbacks.
The companies, American Therapeutic Corporation and Medlink Professional Management Group, both of Miami, allegedly worked together in a scheme to bill the Medicare system for community-based mental health services that were either unnecessary or were never actually provided.
The ATC case is part of an ongoing push by federal officials to crack down on widespread Medicare and Medicaid fraud. More than 825 individuals have been indicted nationwide by the strike force since its inception in 2007. The Obama administration is gearing up to play an increasingly important role in reforming the nation's health-care insurance system.
On Thursday, the federal agents arrested Lawrence Duran, Marianella Valera, Judith Negron, and Margarita Acevedo. In addition, a federal judge ordered the defendants' personal and corporate assets frozen.
---