Religious schools, government money? Supreme Court hears Arizona case.
The Supreme Court must decide if an Arizona program that gives tax credits for private school donations favors religion, or if participants in the program are just exercising personal choice.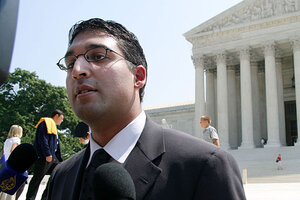 Mauricio Rubio/KRT/Newscom
A US Supreme Court case challenging Arizona's religious school funding program evolved into a debate over whether money from a tax credit is still the government's money even after it has been channeled by taxpayers into a private program.
It is not a minor point.
In oral argument on Wednesday, Paul Bender, a Phoenix lawyer for taxpayers opposed to the Arizona program, said the tuition assistance plan is unconstitutional because it amounts to a distribution of government funds to subsidize religious education.
Arizona taxpayers may claim a $500 tax credit when they make a donation to help underwrite private school tuition – including tuition at religious schools.
Supporters of the program maintain that the donation and tax credit are the result of a private decision that does not entangle government in any direct support for religious schools.
RELATED: No Supreme Court hearing for mom who asked to read Bible to son's class
Opponents say the Arizona system is designed to channel government tax credit money in a way that bolsters religious schools. They say it is unconstitutional government support for religion in violation of the First Amendment's establishment clause.
---