Mehserle verdict: Johannes Mehserle sentencing stuns Oscar Grant supporters, sparks riots in Oakland
Oscar Grant supporters cry foul and take to the streets after Mehserle verdict. The Johannes Mehserle sentencing of two years was shorter than it would have been if the gun enhancement law had been applied.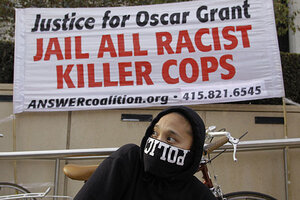 Paul Sakuma/AP
Former cop Johannes Mehserle was sentenced Friday to two years in jail for the death of Oscar Grant – much less than he would have incurred had the judge applied California's "gun enhancement" law that normally mandates heavy sentences when firearms are used in a crime.
The jury found, however, that there was sufficient evidence to suggest that Mr. Mehserle, a former BART police officer, believed the weapon he was using to subdue Grant was a taser, not a gun.
Mehserle had been called to the Fruitvale station of the BART system in the early hours of New Years Day last year with four other officers to look into reports of a fight on a train. Mehserle tried to arrest Grant but reported that Grant was not cooperating. Grant was on his stomach when Mehserle shot him in the back. The shooting was caught on video by another BART passenger and quickly went viral on Youtube.
RELATED: Five memorable Washington political protests
The jury deliberated Friday on whether Mehserle had intended to kill Grant. They acquitted him on second-degree murder and voluntary manslaughter, but convicted him on charges of involuntary manslaughter.
Though involuntary manslaughter usually carries a four-year prison sentence, Los Angeles County Superior Court Judge Robert Perry sentenced Mehserle to two years in state prison with 292 days of credit for time already served. The trial had been moved to Los Angeles because of concerns over media coverage in the Bay Area.
---