Terror case: Is one conviction and 284 acquittals a success?
Ahmed Ghailani's acquittal on 284 of 285 counts revives criticism of the Obama administration's policy to try terror cases in civilian courts. White House hails the single conviction as a victory.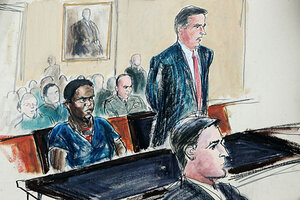 Elizabeth Williams/AP/File
Wednesday's acquittal of alleged Al Qaeda terrorist Ahmed Ghailani on 284 of 285 charges is reigniting a debate over whether terror suspects should be tried by military commissions at Guantánamo rather than in civilian courts in the US.
"The decision by this administration to try terrorists in civilian court was the wrong one from day one," Rep. John Boehner of Ohio, the House Republican leader, said in a statement Thursday.
Mr. Boehner, who has been elected to become speaker in January, is calling for legislation that would require alleged terrorists to be tried by military courts, rather than civilian courts.
His comments were in response to the announcement late Wednesday that a federal jury in New York City had found Mr. Ghailani guilty of engaging in a terror conspiracy. But the panel also acquitted the long-time Guantánamo detainee of all 284 other charges.
Conspiracy conviction emphasized
---