Andrew Traver: Is Obama's choice for ATF chief an 'antigun zealot'?
Obama's nomination of Andrew Traver to head the Bureau of Alcohol, Tobacco, Firearms and Explosives (ATF) reignites concern that the White House wants to whittle away at gun rights. The last time that happened, Americans armed up.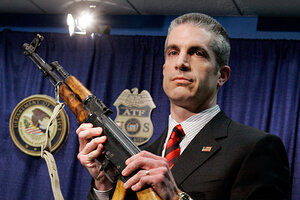 Charles Rex Arbogast/AP
ATF special agent Andrew Traver, who last year let a TV reporter fire an AK-47 from her hip to demonstrate the weapon's lethality, is set to become America's chief firearms inspector. But Mr. Traver, currently the Chicago ATF chief, faces a tough nomination battle as gun-rights groups amass their forces in opposition.
The nomination of the Naperville, Ill., native to be top gun cop is applauded by gun-control activists, who say the 5,000-employee ATF has lost ground in its regulation of the $28 billion US firearms business, having labored under interim directors since 2006.
But the idea of an ATF director who hails from Chicago, a city without gun shops, and who has conflated black market automatic weapons with legal semi-automatic "assault-style" rifles is causing Second Amendment defenders to worry that President Obama intends to blast away at gun rights by force of bureaucracy, if not law.
---