FBI: alleged Christmas tree bomber thought 9/11 'was awesome'
Mohamed Osman Mohamud, who is accused of plotting to bomb a Portland, Ore., Christmas tree lighting ceremony, was not entrapped by FBI agents, says US Attorney General Eric Holder.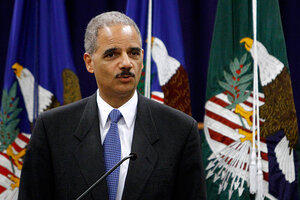 Jacquelyn Martin/AP/file
Attorney General Eric Holder on Monday dismissed questions that FBI agents may have used illegal entrapment to build its case against a Somali-American teenager accused of plotting to detonate a car bomb at a crowded Christmas tree lighting ceremony in Portland, Ore., last Friday.
In comments to reporters, the attorney general said he'd been monitoring the investigation from the start. "I am confident that there is no entrapment here and no entrapment claim will be found to be successful," he said.
The comments came as 19-year-old Mohamed Osman Mohamud of Corvallis, Ore., made his first appearance in federal court in Portland. He pleaded not guilty to a grand jury indictment returned earlier Monday.
The one-count indictment charges Mr. Mohamud with knowingly attempting to use a "weapon of mass destruction" against targets within the US. The charge carries a potential life sentence.
The indictment stems from a 15-month undercover investigation in which federal agents posed as Islamic militants willing to conduct indiscriminate terror attacks within the US.
Under surveillance since 2009
---