California, at Supreme Court, fights judicial order on prison overcrowding
The Supreme Court hears arguments Tuesday in a California prison case. At issue is whether a three-judge court overstepping its authority when it ordered inmates released to curb overcrowding.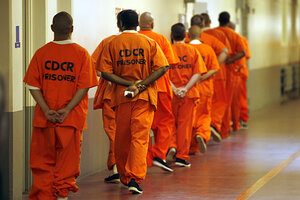 Tony Avelar/The Christian Science Monitor/File
The US Supreme Court on Tuesday takes up a case examining a judicial order requiring California to release as many as 46,000 inmates from the state's overcrowded prison system in two years.
At issue is whether the special three-judge court overstepped its legal authority under the federal Prison Litigation Reform Act (PLRA) when it ordered the inmates released.
The 1996 law was enacted to restrict the sweep of judicial oversight in prisoner rights cases. Lawyers for the state of California are arguing that the California-based judges ignored a congressional requirement that judicial orders be closely tied to resolving the specific problem raised in each case.
The release order was issued in a case challenging the adequacy of medical care and mental health services for California inmates. Plaintiffs alleged that medical and mental health services in California prisons were so deficient that they amounted to cruel and unusual punishment in violation of the Constitution's Eighth Amendment.
The judges determined that chronic overcrowding was a root cause of the poor services and that the quality of treatment would not improve until the prison population was reduced.
California complained that the judges' order for a large-scale release of inmates usurps the state's power to run its own prisons and threatens public safety.
---