Arizona illegal immigrant employment law before Supreme Court
A 2007 Arizona law revokes the license of businesses that knowingly employ an illegal immigrant. The Supreme Court is considering whether the statute is preempted by federal law.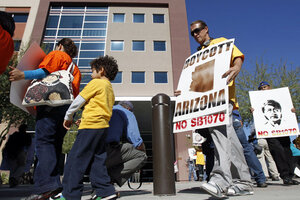 Ross D. Franklin/AP
Arizona's famously tough stance on illegal immigration was on full display at the US Supreme Court on Wednesday, as the state's top appellate lawyer urged the justices to uphold a statute that threatens to shut down any business that intentionally hires illegal immigrants.
"We acknowledge that Congress does have the authority to preempt us, but they left important discretion" open to the states, Arizona Solicitor General Mary O'Grady told the court.
"It is an important part of the balance Congress struck," she said.
At issue in the case is whether the state's 2007 immigration-employment law is preempted by federal law.
The case features many similarities to the recent debate over Arizona's controversial 2010 immigration enforcement law, SB 1070.
Based on questions during oral argument, Arizona may fare better at the high court than it did last summer when a federal judge in Phoenix ruled that major parts of SB 1070 clashed with federal immigration law and were thus preempted and invalid. That decision is pending before a federal appeals court in San Francisco.
The case before the high court on Wednesday involves an older law, the Legal Arizona Workers Act. The 2007 law outlaws knowingly or intentionally hiring an illegal immigrant. Employers that repeatedly violate the statute may lose their license – the business equivalent of the death penalty.
---