US sues BP, eight others to cover cleanup, losses from Gulf oil spill
Justice Department seeks unlimited payments from BP and other companies to cover cleanup costs, economic losses from this year's huge Gulf oil spill. The civil suit alleges safety lapses by BP and others.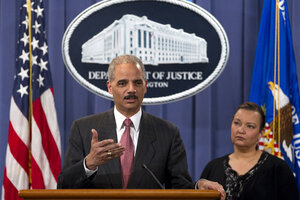 AP
The Justice Department filed suit on Wednesday against BP Exploration and Production Inc. and eight other companies, seeking unlimited payments to cover ongoing cleanup costs and economic losses from the massive offshore oil spill in the Gulf of Mexico.
The civil complaint, filed in federal court in New Orleans, alleges that BP and others violated federal safety regulations and that those violations caused or contributed to the April 20 explosion and the oil spill that continued for nearly three months.
Eleven workers on the Deepwater Horizon offshore platform were killed in the initial blast. Nearly 5 million barrels of crude oil spewed into the Gulf before the well was capped on July 15. It was the largest oil spill in US history.
IN PICTURES: Destructive oil spills
"We intend to prove that these defendants are responsible for government removal costs, economic losses, and environmental damages without limitation," Attorney General Eric Holder announced in Washington.
---