Former Detroit mayor Kwame Kilpatrick faces major corruption charges
A federal indictment of former Detroit mayor Kwame Kilpatrick, his father, and others alleges years of corruption involving kickbacks from contractors doing business with the city.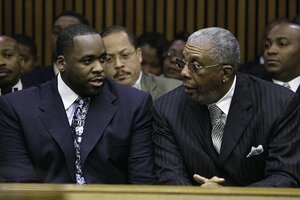 AP Photo/File
Former Detroit Mayor Kwame Kilpatrick is at the center of a 38-count federal indictment announced this week that says he used his authority to generate millions of dollars in kickback schemes from contractors, non-profit donors and others in what is being described as a major criminal enterprise operated out of his city hall office.
Mr. Kilpatrick served as mayor of Detroit between 2002 and 2008 after serving as a state representative from 1996 through 2001. The federal grand jury indictment says his wrongdoing spanned his time in both offices.
Also charged are Bernard Kilpatrick, the mayor's father, top aide Derrick Miller, contractor Bobby Ferguson, and Victor Mercado, the former head of the Detroit Water and Sewage Department. The five men are charged with extortion, mail and wire fraud, obstruction of justice, malicious threats to extort money, and bribery.
The indictment describes an organized effort by Kilpatrick and a band of associates to threaten contractors working with the city's water and sewage department with losing their contract or having it held up unless they subcontracted with or shared a percentage of the contact with a company run by Mr. Ferguson for work that was often not performed.
In other cases, contracts allegedly were rigged so Ferguson would be the awarded recipient. All parties involved in the scheme shared the tens of millions generated by the operation.
Kilpatrick is described as actively pressuring city officials to award Ferguson multi-million dollar contracts for major city projects, such as the demolition of Tiger Stadium and the partial demolition of the Book Cadillac Hotel, even though Ferguson's company did not provide the lowest bid or was not even in the running for consideration.
---