Death penalty less common in US now than in 1990s, report finds
Forty-six executions were carried out in 2010, less than half the all-time high of 98 in 1999, a new report finds. The death penalty was assessed to 114 murderers this year, far short of former levels.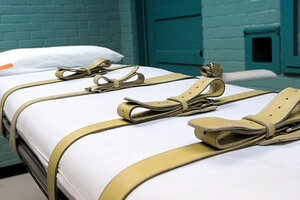 Pat Sullivan/AP/File
The American justice system sent 114 convicted murderers to death row in 2010, continuing a decade-long trend that has seen the number of death sentences reduced from more than twice that level in the 1980s and 1990s, according to a year-end report released Tuesday by the Death Penalty Information Center (DPIC).
At the same time, the number of executions carried out in 2010 – 46 – is down from the all-time high of 98 executions in 1999.
The statistics demonstrate waning public support for capital punishment in the US, say DPIC officials.
"Whether it's concerns about the high costs of the death penalty at a time when budgets are being slashed, the risks of executing the innocent, unfairness, or other reasons, the nation continued to move away from the death penalty in 2010," said Richard Dieter, DPIC's executive director, who wrote the report.
Not all capital punishment experts agree with this assessment.
The Criminal Justice Legal Foundation, a conservative victim advocacy group, acknowledges that the percentage of convicted murderers receiving death sentences has declined for the past decade. But about half the drop can be attributed to a decline in murders, according to CJLF legal director Kent Scheidegger.
The rate of death sentences issued per 1,000 murders has leveled off at about 7.3, says a CJLF press release. The group says it sees no evidence of erosion of public support for the death penalty, citing a November Gallup poll finding that 49 percent of Americans believe the death penalty is not imposed often enough, and an additional 26 percent responded that it is imposed "about the right amount."
The Gallup poll found that 18 percent said capital punishment was imposed too often.
---