Obama blasts Congress's limits on Guantánamo transfers
President Obama signs a bill to fund the Defense Department, though he's upset with one provision that prohibits bringing Guantánamo detainees to the US for trial. He vows to fight the restrictions.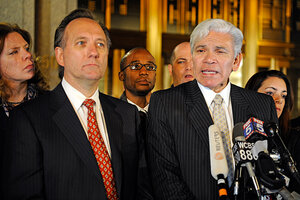 Henny Ray Abrams/AP/File
President Obama strongly objected on Friday to provisions of the 2011 Defense Authorization Act that prevent the military from transferring Guantánamo detainees to the US for trial.
The president registered his opposition in a two-page signing statement issued shortly after he approved the Defense Department funding bill.
Mr. Obama said the restrictions on transfers represent a "dangerous and unprecedented challenge to critical executive branch authority to determine when and where to prosecute Guantánamo detainees."
The measure also blocks the transfer of Guantánamo detainees to foreign countries unless the Defense secretary and secretary of State certify that the receiving countries are willing and able to prevent the detainee's future involvement in acts against the US.
"Despite my strong objection to these provisions.… I have signed this Act because of the importance of authorizing appropriations for … our military activities in 2011," Obama said.
"Nevertheless, my administration will work with the Congress to seek repeal of these restrictions, will seek to mitigate their effects, and will oppose any attempts to extend or expand them in the future," he said.
The defense authorization bill also bars the use of any defense funds to modify or construct facilities in the US to house Guantánamo detainees.
---