Corporate 'personal privacy'? Case watched for any hint of Supreme Court bias.
A lawyer for AT&T faces tough questioning at Supreme Court as he argues for 'personal privacy' protections for corporations. Critics alleging a pro-business bias in the Roberts court are tuning in.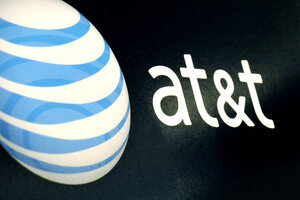 Lisa Poole/AP
A lawyer for communications giant AT&T faced an uphill battle on Wednesday while trying to convince the US Supreme Court that "personal privacy" protections in the Freedom of Information Act should be extended to corporations as well as to individuals.
The lawyer, Geoffrey Klineberg, urged the justices to uphold a federal appeals court decision that the release of federal documents under FOIA could harm a corporation through an invasion of "personal privacy."
But during an hour-long argument session, Mr. Klineberg fielded what seemed an accelerating barrage of skeptical questions from the justices.
How much do you know about the US Constitution? A quiz.
"Can you give me any examples in common usage where people would refer to the personal privacy of a corporation," Justice Antonin Scalia asked.
The law sometimes uses the term person to refer to a corporation, Klineberg said.
"I'm not talking about that," Scalia replied. "Do you have any examples … from anywhere that anybody refers to the interests of a corporation as the 'personal privacy' of General Motors?"
Scalia added: "I cannot imagine somebody using the phrase like that."
---