Ahmed Ghailani gets life sentence for Al Qaeda bombing of US embassies
A US judge rejected leniency for Al Qaeda conspirator Ahmed Ghailani, who alleged mistreatment during harsh interrogations. His trial was the first of a Guantánamo detainee in a civilian US court.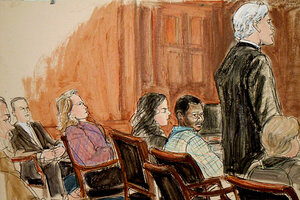 Elizabeth Williams/AP
A federal judge sentenced Ahmed Khalfan Ghailani to life in prison on Tuesday for his role in Al Qaeda's 1998 truck bomb attacks on the US embassies in Kenya and Tanzania.
US District Judge Lewis Kaplan rejected requests by defense lawyers for leniency in recognition of Mr. Ghailani's alleged mistreatment during harsh US interrogations. Instead, the judge imposed the maximum sentence on the 36-year-old Tanzania national.
Whatever the level of Ghailani's suffering, it "pales in comparision to the suffering and the horror he and his confederates caused," the judge told a packed Manhattan courtroom, according to the Associated Press.
Judge Kaplan brushed aside defense arguments and said that Ghailani knew and intended that people would be killed in the terror attacks.
"This crime was so horrible," Kaplan said. "It was a cold-blooded killing and maiming of innocent people on an enormous scale."
He added: "The purpose of the crime was to create terror by causing death and destruction on a scale that was hard to imagine in 1998."
In a largely symbolic move, the judge also ordered Ghailani to pay restitution of $33 million to the US government and relatives of victims of the attack.
Ghailani was convicted in November of a single charge in his 285-count indictment – conspiracy to destroy buildings or property of the United States. The verdict included a special finding that Ghailani's conduct caused at least one death.
But the jury, deliberating after a five-week trial, acquitted Ghailani of 284 other charges, including 273 counts of murder or attempted murder.
---