Judge declares Obama health-care law 'void' in its entirety
A federal judge in Florida rules that the health-care law passed by Congress last year is unconstitutional. Three other federal judges have also ruled on the health-care law – one against, two in favor – setting up a potential Supreme Court showdown.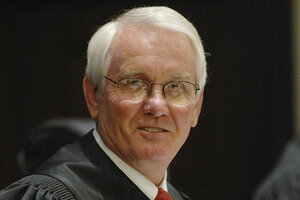 Ben Twingley/Pensacola News Journal/AP
A federal judge in Florida ruled on Monday that President Obama's health-care reform law exceeds Congress's authority under the Constitution's commerce clause.
US District Judge Roger Vinson declared the 2,700-page reform measure "void" in its entirety, while concluding that the law's individual mandate requiring all Americans to buy a government-approved level of health insurance was a "bridge too far."
"The individual mandate falls outside the boundary of Congress's commerce clause authority and cannot be reconciled with a limited government of enumerated powers," Judge Vinson wrote.
The action, if upheld on appeal, means that Congress would have to return to the drawing board to draft a significantly different version of health-care reform.
Vinson is the second judge to strike down the health-care law's individual mandate requiring all Americans who can afford it to purchase health insurance or pay a penalty.
Two other judges have upheld the constitutionality of the health-care reform law.
The conflicting rulings have set the stage for legal battles in the federal appellate courts and perhaps, eventually, at the US Supreme Court.
26 states sued
---